TEMPORARY & SHORT TERM OFFICE SPACE IN METRO MANILA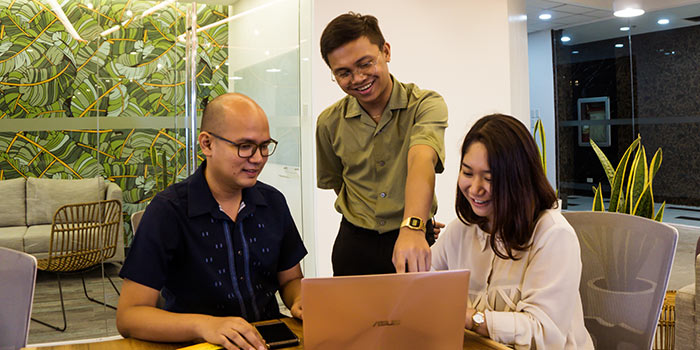 Temporary shared office space is the ideal environment for startups that require incubation areas or workspaces for small operations. KMC can provide a shared office that's attractive, ergonomic, and furnished to handle all your business requirements. Our shared spaces allows you to maximize productivity and reduce monthly costs during your startup months in the Philippines.
Desk rentals are ideal for companies that seek short-term workspace options while increasing employees and infrastructure. This style of incubation is becoming more common with foreign startup companies that move into managed offices in Metro Manila and all over the Philippines. In addition, these temporary workspaces tend to more conservative and economical. In fact, we find that this option is great for companies that begin with 10 or less team members.
KMC PROVIDES FULLY-FUNCTIONAL SEAT RENTALS AND INCUBATION SPACES:
Desks or cubicles
Small private rooms or coworking space
Workstations with hardware and built-in software
Receptionist and lobby area
Conference rooms
Printers, fax machines, scanners and copiers
Continuous IT maintenance and support
High-speed Internet access
VOIP
24/7 office access & Air Con
WHY CHOOSE KMC?
KMC currently has over 7,000 fully outfitted workstations located in 14 prime office buildings across Metro Manila and Cebu. These serviced offices are fully furnished and backed with 24/7 IT support and administrative services. The main advantage of KMC's workspaces and temporary offices is the variety of room options that can accommodate 1-10 employees to as large as 200 employees depending on floor size. In addition to these private offices, our facilities offer separate training rooms and separate executive board rooms.
A PROFESSIONAL BUSINESS IDENTITY
All KMC offices are located in Class A buildings in prime locations in Metro Manila's Central Business Districts such as Makati, BGC, Ortigas and the IT Park in Cebu City.
SHORT TERM OFFICES WITH FLEXIBLE CONTRACTS
We offer month to month contracts so you can have the flexibility to make adjustments based on growing or reducing headcount. This allows you to move in and out of different room sizes in any of our facilities. Businesses that choose to have a dedicated 12-month contract with us are automatically eligible for a discount. Compared to other providers we only require a month advance rent and two months deposit. Short term office options starting with only one month are available as well.
PLUG-N-PLAY OFFICES
Our plug-n-play offices and services are structured so you can migrate your staff into our facilities seamlessly the day the contract is signed. In addition, we provide superior IT and customer support with fast response time and professional staff to service your needs. Our facilities include small meeting rooms, interview rooms, conference rooms, training rooms, business lounges and pantry area.
COST EFFECTIVE START-UP SOLUTIONS
KMC's serviced offices and coworking spaces are a reflection of growing startup trends for many companies to save time and money. Our turnkey systems make it convenient for you to move in and move out at almost anytime with additional services such as Staff Leasing, HR and payroll available to help support your business in the Philippines.