PEZA BUILDINGS IN MAKATI, ORTIGAS, MANILA, FORT BONIFACIO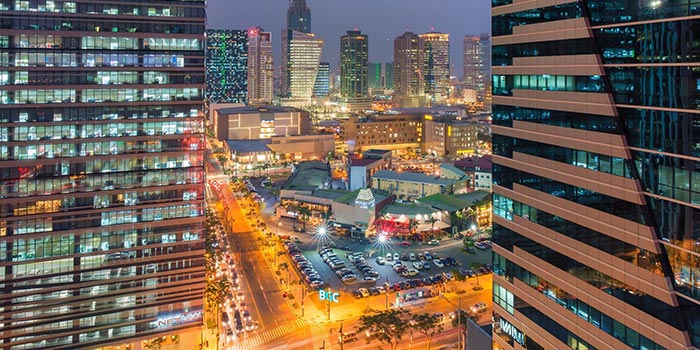 Tax incentives are made available by the Philippines Board of Investments for certain buildings and special zones in Makati, Manila, Ortigas, and Bonifacio Global City, Philippines. We can help identify these tax incentives for certain buildings and even office units located in Special Economic Zones (PEZA) where businesses are allowed to avail of special tax breaks in these parts of the Philippines. Tax incentives typically depend on the geographic location of a business. KMC will identify PEZA buildings where businesses and individuals are allowed to avail of special tax breaks in Metro Manila and other parts of the Philippines. Most locations have ideal office space options for call centers, IT- BPO, and export companies, which are in IT or Technology Parks.
KMC WILL PERFORM THE FOLLOWING:
Identify desired office space requirements
Identify IT Parks or Technology Parks
Determine company's eligibility for PEZA
Provide a list of PEZA buildings and office space
Transportation and viewing of office buildings with real estate brokers
Negotiate with landlords to assure the best possible price and terms
Review lease contracts with landlords
Process all required documents for PEZA
PEZA OVERVIEW - PHILIPPINE ECONOMIC ZONE AUTHORITY
Businesses registered with the Philippine Economic Zone Authority (PEZA) are entitled to a holiday from income tax and local taxes for four to eight years. After that, they are subject to a 5% tax on gross income (sales less direct costs) in lieu of all local and national taxes. Businesses that are registered with the Subic Bay Metropolitan Authority (SBMS) or Subic Bay Freeport Zone, which administers the economic zone established by the conversion of the former United States military base in Subic, are also subject to the special 5% tax but are not entitled to tax holidays. The same benefits are accorded to qualified industries registered with the Clark Development Corporation and located in the Clark Freeport Zone.
To avail of the incentives offered by PEZA an enterprise must register with PEZA and locate their operation in one of the zones. PEZA registrants must generally be export-oriented, with enterprises located inside the zones required to export 100% of their production. In some cases, PEZA may approve the sale of up to 30% of production in the domestic market. Full foreign ownership of a PEZA enterprise is allowed provided they are not engaged in activities that appear on the Foreign Investment Negative List. PEZA approval and specific incentives granted are on a case by case basis. Applicants must supply an application for providing information on capital structure, the nationality of investors and a feasibility report in accordance with a PEZA prescribed format. Applicants should then expect fast turn around once the application is submitted.
LIST OF PEZA ACCREDITED BUILDINGS
6750 Ayala Avenue Building
6780 Ayala
6788 Ayala Avenue Building
Amkor Technology Special Economic Zone
Asahi Special Economic Zone
Aurora Tower
BPI Buendia Center
Burgundy Corporate Tower
Convergys IT Building
DPC Place Building
Eastwood City Cyberpark
EDSA Central IT Center Park
EDSA Central IT Center 2
E-Square IT Park
Eugenio Lopez Jr. Communications Center
Exportbank Plaza Building
Food Terminal Incorporated Special Economic Zone
G. T. Tower International
Gateway Call Center Office
Gateway Office Tower
HTMT Cyber Park
Insular Life Building
Insular Life Corporate Center
JG Summit Center
JGC Philippines Building
Libran House IT Center
MacroAsia Ecozone
Manila Harbour Center
Market! Market!
Marvin Plaza Building
McKinley Hill Cyber Park
MSE Center
Multinational Bancorporation Centre
Net Cube
Net One Center
Net Quad
Net Square
Niscom IT Building
Northgate Cyber Zone
Octagon IT Building
One Global
Orient Square
Pacific IT Center
Pacific Star Building
PBCom Tower
PeopleSupport Center IT Building
Philamlife IT Building
Philamlife IT Tower
Philippine International Air Terminals Co.
PSMT IT Building
RCBC Plaza IT Park
Riverbanks Center ICT Building I
Riverbanks Center ICT Building II
Robinsons Cyberpark
Robinsons-Equitable Tower
Robinsons Place Novaliches
SDC IT Building
SM CyberZone 1
SM iCity
Summit One Office Tower
The Annex@Shaw
The Enterprise Center
The Paseo Center IT Building
Unionbank Plaza
UP Science and Technology Park (North)
UP Science and Technology Park (South)
V-Tech Tower
Victoria Wave Special Zone
Wynsum Corporate Plaza
Cyber Park Building One
Diliman IT Building
East Cyber Gate Building
Global Trade Center
Manila COD IT Building
The Facilities Centre
Three E-Com Center